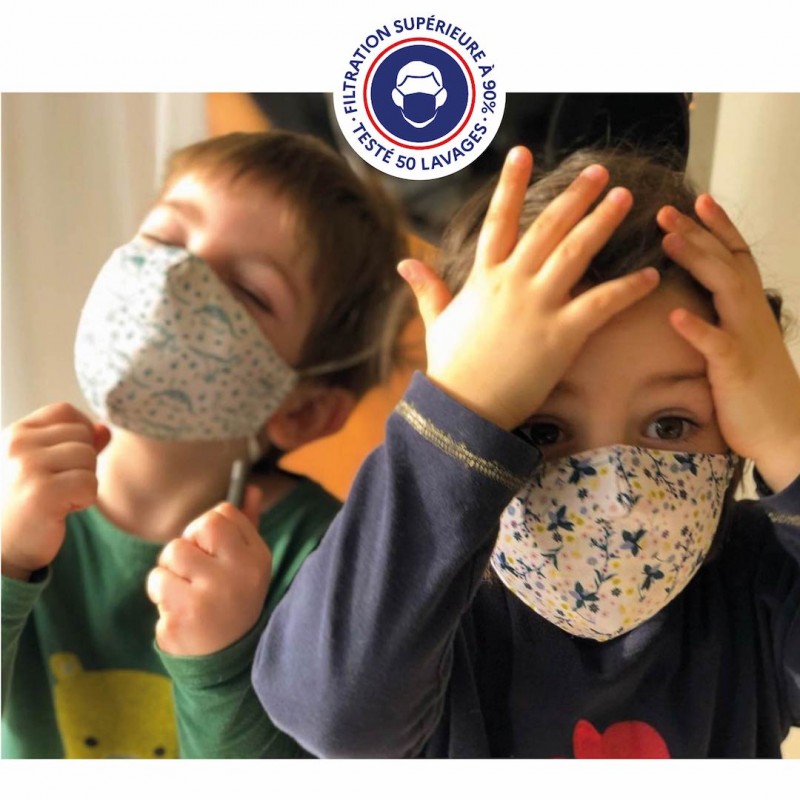  
UNS 1 Masks - KIDS (4-8 years old)
MASQUITA, the barrier mask UNS 1 by Loopita 
Complies with AFNOR S76-001 specifications and DGA (French Army) report: RP/20-4875
KIDS size: from 4 to 8 years old
Our masks are pretty, comfortable, breathable, filtering and.... durable!
Pretty: if you're going to wear a mask, you might as well enjoy it!
Comfortable: they hold well to the face
Breathable: in accordance with standards, above 96l /m2
Filters: category 1. Our individual masks are also used by professionals in contact with the public.
Durable: tested for at least 50 washes, fabrics certified Oekotex Standard 100
Technical documents :https://loopita.fr/masquita
If you prefer the elastic bands behind the ears, it's easy: click here to access the tutorial.
The UNS 1 MASQUITA Barrier Mask is not a medical device within the meaning of regulation UE/2017/745 (surgical masks), it is not PPE, Personal Protective Equipment according to regulation UE/2016/425 (filtering mask FFP2).
It is in conformity with the French marketing regulations for washable and reusable fabric masks. AFNOR SPEC S76-001 :2020 / DGA n° RP/20-4875/DGA MNRBC/2000305/NP. Detailed information on: https://loopita.fr/masquita
Loopita offers you its UNS 1 barrier masks.
Designed in our workshops in Mimizan, our barrier masks are created to last and protect in beauty!
Tested and validated by all the organisations in force: Air permeability test: 327 l/m2 / Filtration of the particles of 3 μm emitted: 93
Therefore, our masks are also suitable for professionals in contact with the public.
They have very good breathability, they are soft, comfortable and light. Comfort is optimised by a double elastic band that passes behind the head.
Well-made, they offer an excellent adaptation to the face and therefore an excellent level of protection. Our masks comply with AFNOR recommendations.
3 different sizes so that they are as comfortable and protective as possible: LARGE (for large faces), MEDIUM (for women with small faces and young people from 8 to 14 years old) and KIDS (from 4 to 8 years old).
3 other products in the same category: